Notice
The mailbox has a limited capacity of 50mb. This limit has been imposed to keep the consultation fast given the very high number of users who access it.
USE OUTLOOK TO ARCHIVE YOUR EMAILS
In order to make up for the limited capacity of the mailbox, you may use the Outlook program.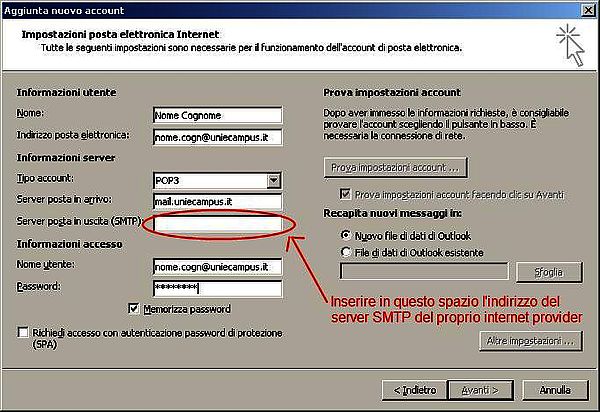 Here is a list of the SMTP servers of the most popular internet providers (the company with which you have signed the contract for the internet connection) in Italy:
smtp.libero.it INFOSTRADA
mail.tin.it or out.aliceposta.it ALICE

smtp.tele2.it TELE2/TELETU
smtp.fastwebnet.it FASTWEB
smtp.net.vodafone.it or smtpmail.vodafone.it VODAFONE
smtp.tiscali.it or mail.tiscali.it TISCALI
USE GMAIL TO ARCHIVE YOUR EMAILS
It is also possible to use GMAIL as an alternative to Outlook for archiving emails. For setting up your GMAIL account, you can refer to the following user guide

WEB DISK
All the members of the teaching staff will have the possibility to use a temporary web space (5 days) for sharing files larger than 5 MB (which is the maximum size for an email attachment) with students; see the following user guide.
EDITOR FOR TEACHER PROFILE
For the exchange of files larger than 5MB, all the members of the teaching staff will also have at their disposal the "Teacher Card Editor"; see the following user guide.
ePORTFOLIO
In response to a student submitting a file to the ePortfolio, teachers can use the same function (ePortfolio) by clicking on the "Result" field of the individual exercise.
MY DOCUMENTS
Students can send files to the members of the teachinf staff (maximum size of 100 MB) using the 'My Documents' function found in the menu on the left within the "Go to Study" section of their personal page.